We're pleased to offer the following services at the Clinton Veterinary
We provide routine exams and preventive care, including vaccinations, dewormings, heartworm and flea and tick control, in addition to caring for sick animals and those requiring routine surgical and dental procedures. The field of veterinary medicine has become immensely more sophisticated in the past 20 years. Our location in NYC means that we are never far from specialists in every subspecialty in our profession. Our long presence in the community has allowed us to develop easy relationships with board certified practitioners in every field. We occasionally turn to them for our own pets needs. And if our vets believe that your pet would benefit from their services, we won't hesitate to recommend a consultation. In those cases, we cooperate with those specialists to provide ongoing care to our patients.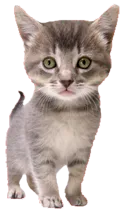 Appointments
Our receptionists and team will do our best to schedule appointments at times that suit your needs.
Emergency & Urgent Care
Emergencies are accepted anytime our clinic is open. If you feel you have an emergency with your pet, come in immediately. But, if possible, it is best to call before coming to allow us to expedite the treatment for your pet. We have a veterinarian and personnel on duty six days a week who are trained and equipped to handle many urgent conditions. If you feel your pet needs to be seen before you are able to get an appointment, ask to speak to the veterinarian so that an arrangement can be made to take care of him or her as soon as possible.
Types of Pets Seen
Discounts
The Clinton Veterinary Center offers a 10% discount on services provided to pets belonging to senior citizens. Local area rescue groups may also be eligible for discounts. Call for more information.